Replacement Windows Made IN Texas, BY Texans, FOR Texas Weather
Southern Windows and Doors are manufactured in Fort Worth Texas.
Made by Texans and built specifically for the tough Texas summer heat and winter cold. Our Low-E 366 is the perfect glass for Texas.
In the summer, when the temperature soars, regular single pane or double pane glass can't handle the heat. And standard tinted glass does little for heat. Plus, it spoils the view. Our Cardinal patented Low-E 366 glass had been specially made to block the Texas heat without blocking the view. It lets more light in and keeps the heat out. Your home stays comfortable all summer with dramatically lower utility bills.
Additionally, our patented glass provides exceptional fading protection for your carpet, furniture and window coverings, keeping them beautiful for years to come. It blocks 95% of the sun's damaging rays which lead to fading in your home. No more fading or discoloration.
During the cold winter, the insulating qualities of your windows have direct impact on the comfort of the room. With over 75% of the window surface being glass, the better insulated glass will directly affect the warmth in your rooms.
Inside Glass and Outside Temperatures
The table below compares the room-side center of glass temperatures of different glass types against two different winter conditions.

Choose our Cardinal Low-E 366 glass with Argon gas for maximum energy efficiency. It's the perfect window glass for Texas weather.
With three layers of silver coating that blocks solar gain, reflects heat and lets the light stream in, combined with the natural gas Argon which resists heat, cold and sound transfer, you have the perfect combination of high-performance features to keep your home comfortable and energy efficient year round.
Glass Comparisons and Performances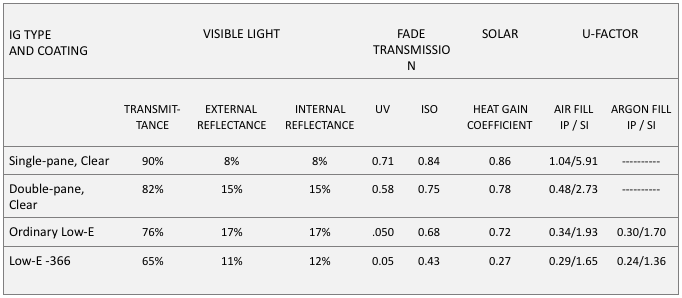 Southern Living Cardinal Low-E 366 glass with Argon gas is the Texas glass choice for all seasons.
All our windows include this glass as a standard feature. Read our reviews to see for yourself what our customers have said.