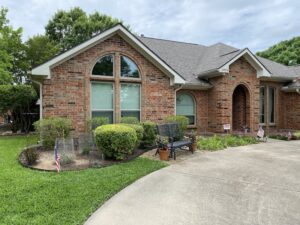 Ready to upgrade the windows or doors in your existing home?  Seeking quality windows or doors for your new home?  Need new windows quickly following storm damage?  At
Southern Windows and Doors
, we've got the process down to a science.  With nearly 50 years of window installation experience, having installed over 40,000 windows in the DFW area, we bring valuable expertise and top quality customer service to every project.  Our consultative engagement is designed to help you choose the right solutions for your home style, lifestyle and budget.
Here's what you can expect when getting started:
Project Review
Schedule a convenient time to visit with one of our experienced window and door technicians.  Understanding the busyness of everyday life, we offer flexible appointment times, including early morning and after-traditional-office-hours appointments.  The time needed to assess the project will be dependent on the number of windows involved, but our initial appointments generally take less than one hour.
Product Selection and Cost Estimate
After surveying the home and capturing your desires, our window technician will walk you through window and door options.  In addition to being presented with a wide variety of styles and mechanical solutions, including slim-line frames, on-trend vinyl color choices and upgraded glass finishes, you can expect qualified input on energy saving options and current style trends.  Prioritizing your budget, our team members will be transparent about costs and solutions.  When getting started you can expect to receive information on our smart financing programs, including a 36-month, low interest home improvement financing option that starts at only $70 per month for qualified applicants.  Once you are confident in your selections, we'll provide you with a written, no-obligation quote.
Precise Measurements for Custom Build
When you are ready to proceed with the project, we'll schedule a convenient time to conduct professional measurements.  In some cases, this can be done during our initial engagement.  Precise measurements ensure the quality we expect and guarantee.  Partnered with premier, Texas-based, custom window builder, American Window Systems, we are confident in the expert manufacturing of your custom windows and/or doors.
Getting Started With Installation
We'll schedule installation as soon as your products are completed.  Our professional window installers will ensure proper setting and sealing and clean your windows as a last step in the process.  You can expect our customer-friendly team members to walk you through the operation of your new windows and doors as well. Following installation, you can enjoy peace of mind knowing our windows and doors come with a lifetime warranty.  Should you have a problem in the future, we're just a phone call away. As our customer testimonials highlight, you can count on Southern Windows and Doors to beautifully and comfortably bring the outside into your home.
Ready to get started on your new windows or doors?  Schedule your consultation today.